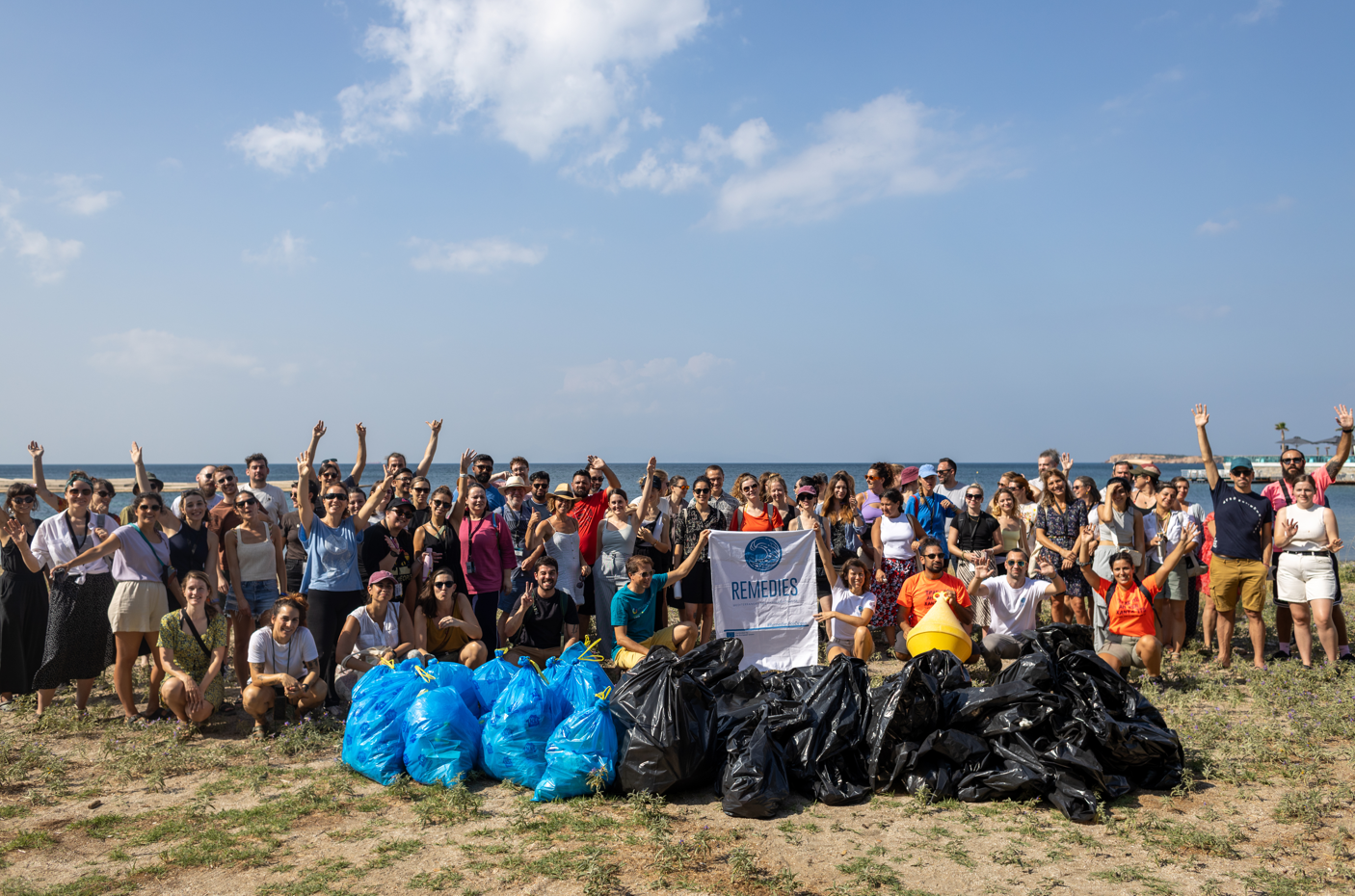 As we pause to reflect on the remarkable journey we've embarked upon, we are thrilled to share with you the incredible success of the REMEDIES Inauguration Event. This milestone event took place in Athens, Greece, on September 26, and it will undoubtedly leave an indelible mark on our mission to protect our environment. More than 90 impact makers for Impact Hubs across Europe and more than 40 representatives from the Greek ecosystem, NGOs, public entities, startups, foundations, took part and had the chance to network, interact, and learn about the REMEDIES program.  
The Inauguration day commenced with a Beach Clean-up organized by REMEDIES in collaboration with Save Your Hood and Impact Hub Athens, at Voula beach. Our audacious goal is to reach our #20TonnesChallenge, gathering as much plastic litter as we can to make a significant impact on our oceans.
The event was enriched by a powerful Panel Session on Sustainable and Disruptive Solutions, where we had the privilege to learn from three distinguished speakers who are champions of environmental change:
Luiz Bonvini – Impact Hub: A global network committed to catalyzing collaborative solutions for positive social and environmental impact. We gleaned insights into the power of collective action and innovation.

Angeliki Kosmopoulou – Athanasios C. Laskaridis Charitable Foundation: A pioneering foundation driving transformative initiatives for marine environment protection and community empowerment. We discovered how a foundation can be a catalyst for positive change.

Uroš Novak – REMEDIES-for-ocean Horizon Program: Uroš, REMEDIES Coordinator, shed light on our groundbreaking initiative leading the charge for a plastic-waste-free ecosystem. We gained invaluable insights into the cutting-edge technologies and strategies propelling this transformative movement.
The Massive Business Clinic was another highlight of the event! We tackled challenges related to climate change, environmental protection, and the critical issue of plastic litter. Each perspective counted, and a vast network of potential partners and allies has now been set into motion.
Meet the Greek Challenge Owners who joined us in brainstorming and paving the way for a more sustainable future:
We extend our heartfelt gratitude to the more than 30 experts who joined us from across the country, igniting conversations that will shape our sustainable future.
A big thank you to the Municipality of Vari-Voula-Vouliagmeni for graciously hosting us in the welcoming Ionian Hall, right by the sea!
The REMEDIES Project Inauguration Event was a testament to the power of collaboration, innovation, and unwavering commitment to our planet. Let's join the REMEDIES movement! We're on a Mission! Let's Restore our Ocean.